Product Details
Trusted to Enhance the Future Warfighter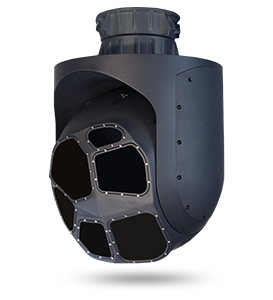 CM234
The CM234 marks the next generation of imaging systems for intelligence, surveillance, and reconnaissance (ISR), and target acquisition operations. To deliver superior capabilities in tactical unmanned aerial system (TUAS) operations, the CM234 combines 7-sensors in a 4-axis stabilised, compact system.
Product Specifications
HD EO Wide & Narrow
MWIR
SWIR
Laser Range Finder
Laser Target Designator
Laser Pointer
4-Axis Stabilisation
Sub 6.5kg Total Weight
IP67 Rating
Product Description
The CM234 Spitfire is AVT Australia's latest innovation in aerial imaging systems, which has been selected for incorporation into the Land 129 Phase 3 program to support the Australian Defence customers. The CM234 will deliver advanced ISR and target acquisition capabilities to the Australian Army during tactical unmanned aerial systems (TUAS) operations.
Product Features
Enhancing the Future Warfighter
With seven sensors, the CM234 will deliver long-range ISR capabilities at day and night, and in all-weather conditions and environments. The CM234 includes high definition electro-optical (EO), mid-wave infrared (MWIR), short-wave infrared (SWIR), a laser range finder (LRF), a laser target designator (LTD), and a laser pointer.
Accurate Detection and Identification
With 4-axis mechanical stabilisation, the CM234 will deliver highly accurate detection and identification of an object at maximum zoom. This will facilitate long-range DRI, allowing the warfighter to gather more information, whilst maintaining a safe stand-off distance.
Long-Endurance Operation
To facilitate long flight endurance and maximum operation, the CM234 weighs under 6.5kg and has a low power draw, keeping the TUAS in the air for longer.
Suitable Missions
Aerial ISR and Target Acquisition
Border Protection
Force Protection
Search and Rescue
Force Protection
Standard Features
AVT Australia's imaging systems include the following features as standard
Multi Sensor Streaming

Onboard Video Encoding and Recording

Object Tracking

E-Stabilisation

Roll Stabilisation

Scene Steering

GEO-Lock

ITAR Free

Designed and Developed in Australia

User-Friendly Command and Control